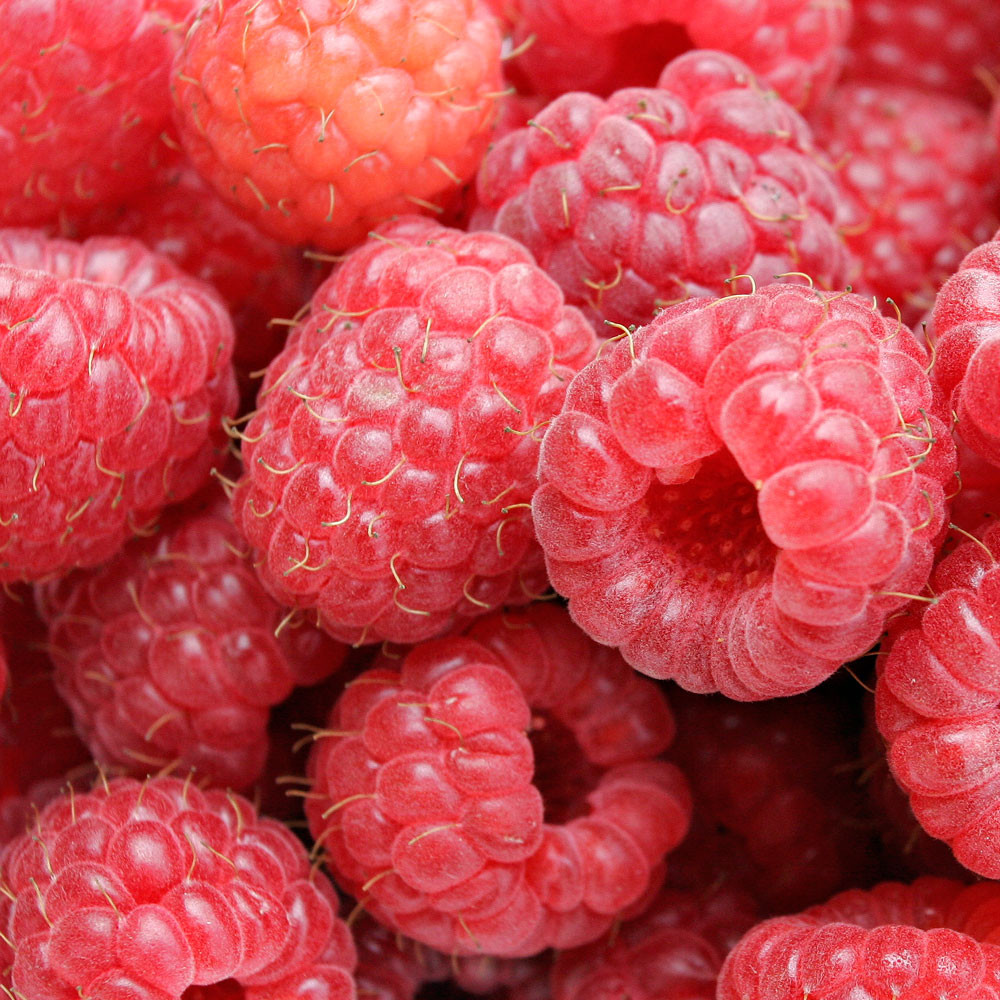 Raspberries are easily grown in any  garden with a sunny exposure and soil that drains well.
This year we offer the everbearing varieties Caroline and Heritage, and the yellow variety Fall Gold.
They are most commonly grown as a fall bearing raspberry that produces fruit from August until frost stops production.
The easiest way to grow everbearing raspberries is to plant them about 18″ apart in rows 36″- 48″ apart. Keep the plants well watered and weed free, and new canes will fill in the row by fall. The first season they will produce berries on the canes that just grew that summer. The following spring before the plants start new growth, mow the canes from last year down to 4″ high with a lawnmower. Keep the row to 1′ wide by tilling along side the plants. Straw or mulch can be used to keep weed growth down and moisture in the soil.
The new canes that grow that spring and summer will produce berries beginning in July and keep going until a hard frost stops cane growth. The following spring, mow down the canes and repeat.
We all have friends or family members that offer us some of their raspberry plants that are spreading beyond their rows. Even though free is good, free raspberry plants usually come with free insects and disease, and more often than not, if these free plants were from stock that is more than a couple years old, the free things you really don't want are included 🙁    Once you have disease in your soil it takes several years to eliminate it by removing the plants and growing something else in that area.  The moral of the story is don't take free raspberry or strawberry plants from friends.
       All of the berry plants we sell are Michigan certified virus and insect free.
                                                       Red Raspberries
 Caroline – Is often described as the best flavored of all red raspberries. Fruits are larger than most other varieties and of excellent firmness for shipping. Begins ripening 2 -3 weeks(early August) before Heritage with equal productivity. A great variety!!!    SOLD OUT

Heritage – Is a medium – large fruited, deep red variety with excellent flavor. It has good firmness, keeping, and shipping qualities. This everbearing raspberry is the most widely planted, latest ripening variety (mid August until frost) and is root hardy throughout Michigan. Plants have above average resistance to disease and insects.       SOLD OUT

All red raspberries varieties in 2 1/2″ pots are priced at $3.50 each.
Yellow Raspberries

Fall Gold – This deep yellow, everbearing variety is grown the same as the red ones, and ripens with Heritage. Yellow varieties are a bit less acidic than red raspberries, and make the most delicious preserves you've ever tasted. Berry size is equal to Heritage, and spreads quickly to form full rows of plants.
                                                                    SOLD OUT
                                 Yellow raspberries in 2 1/2″ pots are priced at $4.50 each